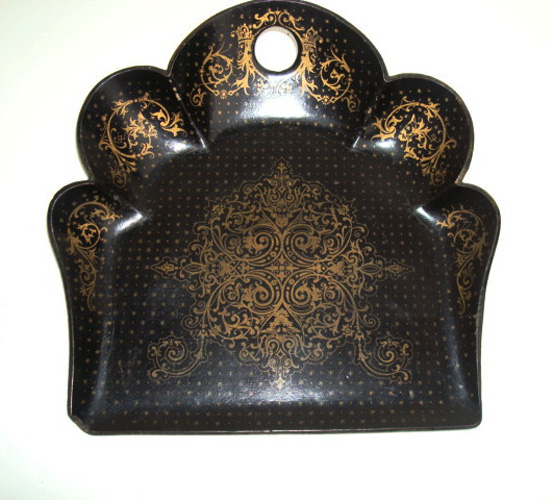 PAPER MACHE CRUMBER, ANTIQUE, GILT DECORATION
Date: l9th c.
Price: $75
Description:

Antique paper mache crumber painted black with the original elaborate gilt decoration, English, 19th century. This would have been used with a small brush at the dining table after a meal to gather crumbs from the table cloth. Excellent condition. 10 inches H. 10 inches W.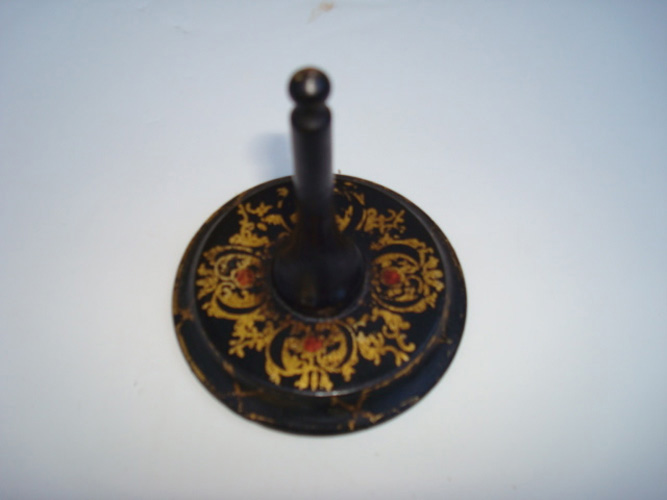 RING HOLDER, ANTIQUE BLACK PAINTED WOOD, GILT DECORATED, 19TH C.
Date: Early 19th century
Price: $185
Description:

Antique ring holder, black painted wood with original gilt decoration, early 19th century, English. 3in H. 3in W.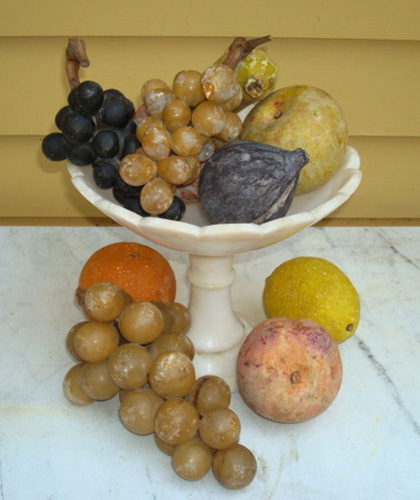 STONE FRUIT, ANTIQUE 10 PIECES AND ALABASTER COMPOTE
Date: Early 20th C.
Price: Please contact us for price
Description:

Antique scalloped alabaster compote with ten pieces of antique Italian marble stone fruit. One large lemon, one orange, one bunch black grapes, one bunch yellow grapes, one large bunch of yellow grapes, one peach, one apple, one plum, one persimmon, and one banana. Compote is 8 inches high and 8.5 inches wide. Compote with ten pieces of stone fruit.