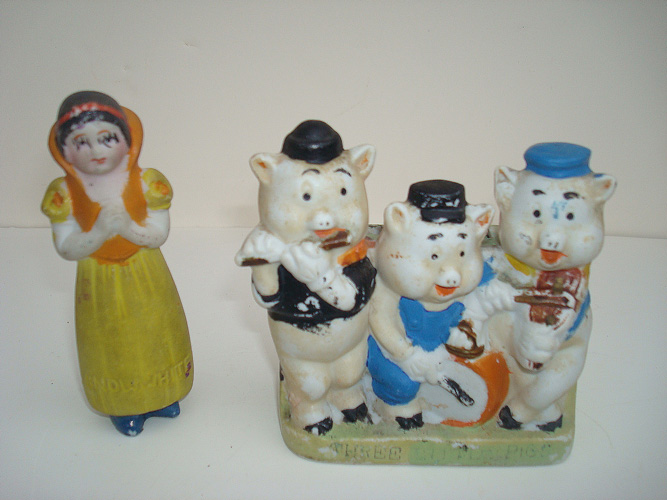 DISNEY THREE PIGS AND SNOW WHITE
Date: Circa 1935
Price: $65
Description:

Three Little Pigs porcelain tooth brush holder in original paint. Excellent condition. Labeled on front and impressed marked Walt Disney, Made in Japan. Circa 1935. Along with standing porcelain figure of Snow White, in original paint. Labeled and marked Walt Disney. 4 inches high. Original paint. $65.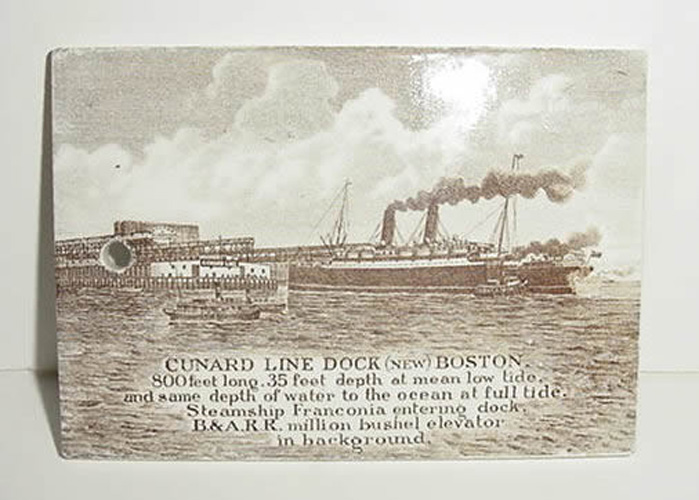 Pair Tiles, Boston, Cunard Line Dock, Commonwealth Docks, 1912
Date: 1912
Price: Please contact us for price
Description:

Pair Boston brown glazed tiles of transfer engravings, one showing image of 'Cunard Line Dock (new)Boston, etc.' with 1912 calendar on reverse, and other tile showing image of 'Pier Head of Commonwealth Docks, Boston, etc.' with 1914 calendar on reverse. Marked:'Jones McDuffee & Stratton Co., Crockery, China & Glass Merchants, 33 Franklin St. Boston, USA'. Each 3.75in H. 4.75in W. Have hole for hanging.