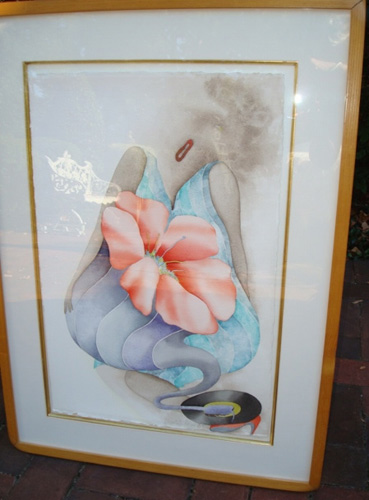 CHARLOTTE REINE, WATERCOLOR, French
Date: 1984
Price: Please contact us for price
Description:

Watercolor, Charolotte Reine, Portrait of Chanteuse, signed and dated 1984. 31in H. 22 1/2in W. Framed. Charlotte Reine, (1956-) born in Chamon Feuferoiles Loire works in watercolors, etchings, oils. Her studio is in Paris. She has shown in Paris, Belgium, Switzerland, New York, San Frencisco, Los Angeles and Dallas. Since 1978 she has had over 17 one-woman shows. Her works 'lend a vision of the world that restores a sense of wonderment, simplicity and whimsy.' Image size 15 1/4in x 22 3/4in . Framed in lightwood beveled frame. 31in x 22in.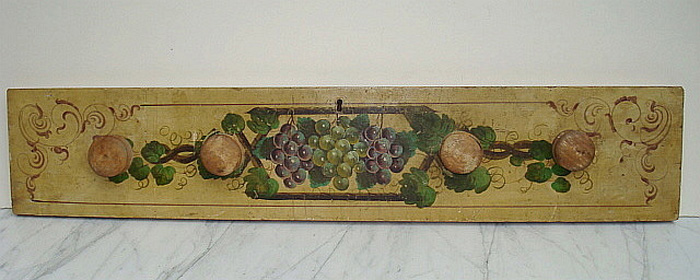 GRAPE VINE PAINTED WOOD PANEL, OIL, 19TH CENTURY, AMERICAN
Date: 19 th century
Price: Please contact us for price
Description:

Charming folk art oil painting of grapes on grape vine with leaves, hand painted on front panel of wooden drawer with decorative scrolls on ochre ground color. Has original wooden drawer knobs so this could be used as a decorative hat rack or for hanging other things. Wire for hanging on reverse. 6 1/2 inches high, 33 inches wide. Very unusual and appealing. American, 19th century.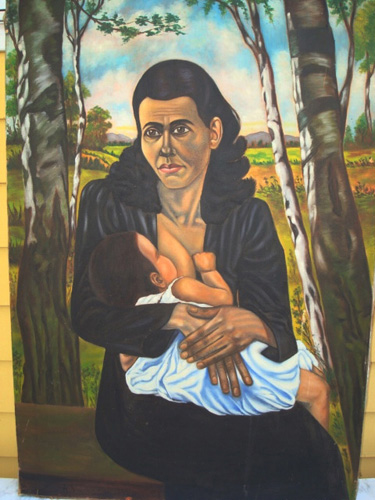 PAINTING, SECULAR MADONNA, OIL ON CANVAS, LATIN AMERICAN, 1945
Date: 1945
Price: $0
Description:

Latin American painting, framed, 'Secular Madonna', oil on canvas of mother and child, signed A. Nie---- 1945. 34 inches H. 24 inches W.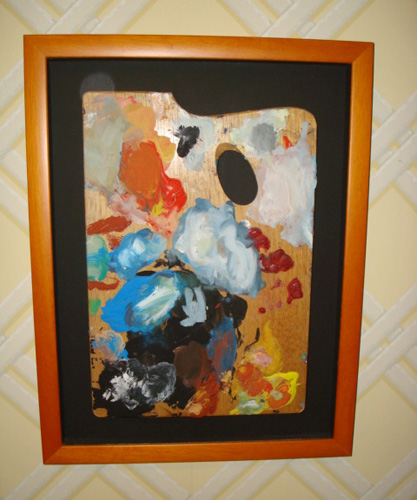 TWO FRAMED ARTIST PALETTES, ANTIQUE, C. 1900-1930
Date: C. 1900-1930
Price: Please contact us for price
Description:

Two antique artist palettes, 'floated' in orange wood frame on black ground, circa 1900-1930, American. one 14 inches by 18 1/4 inches and the other 15 inches by 18 1/2 inches. Two framed palettes.