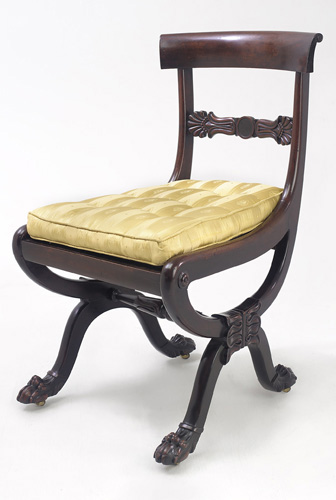 CURULE CHAIR, ANTIQUE MAHOGANY, CIRCA 1815
Date: 1815-1825
Price: Please contact us for price
Description:

Very fine and rare classical carve mahogany curule base drawing room chair with scrolled crest rail above a carved horizontal splat with rosette, flanked by stylized lotus flowers and palmettes, above a deep caned seat raised on a curule base with the legs connected by a turned lotus leaf medial strethcher, resting on carved animal paw feet on casters. Has original hair stuffed cushion. This design is based on the ancient Roman magistrates curule form of folding seats and shown in the English and French design books of Thomas Hope, Percier and Fontaine and George Smith in the early 19th century. 35.5in H. 21.5in W. 25in D.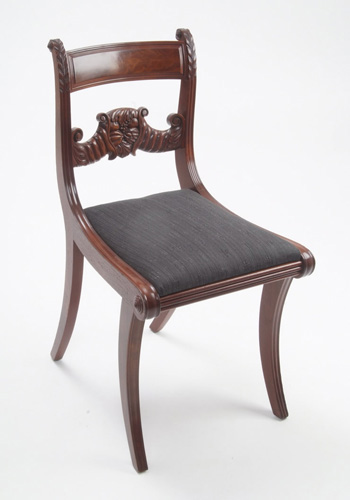 NEW YORK CHAIRS, ANTIQUE MAHOGANY, FOUR, CORNUCOPIA SPLATS,. 1810
Date: c. 1810
Price: Please contact us for price
Description:

Set of four New York federal carved mahogany side chairs with curved crest rail, stiles with leafage carving and rondels, cornucopia carved medial splats, slip seats, resting on molded sabre legs decorated with rondels. These chairs are of the best of mahoganies, have fine crisp carving, and are beautiful examples of high style New York furniture of the early 19th century. 32in H. 17 1/2in W. Circa 1810. Provenance: Phraner/ Bowles Family, Summit, New Jersey.