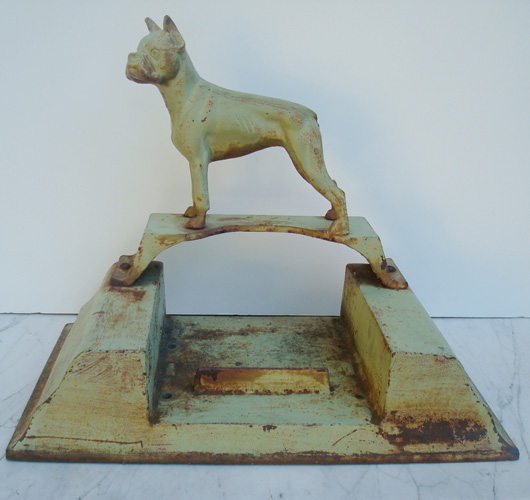 BOOTSCRAPER, BOXER DOG, CAST IRON, ANTIQUE
Date: Circa 1900-1920
Price: Please contact us for price
Description:

Antique cast iron bootscraper with rare figure of Boxer dog mounted on top, in original green paint. Unusual. Very heavy weight. Has replaced brushes. Circa 1920-1930. 15 inches high, 18 inches wide and 11 1/2 inches deep. $550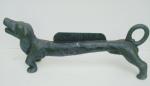 BOOTSCRAPER, DACHSHUND DOG, CAST IRON, VINTAGE
Date: early 20th century
Price: $225
Description:

Large cast iron Dachshund Dog boot scraper, with a wide scrape, and in old black paint. This is a great functional and yet whimsical scraper because of its large size. Circa 1920-1940. 8 inches high, 21" wide, and 7 inches deep. $225.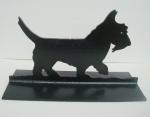 BOOTSCRAPER, SCOTTIE DOG, IRON
Date: early 20th century
Price: $250
Description:

Scottie dog silhouette boot scraper, heavy sheet iron, painted black. Very heavy weight and good size for scraping foot. 10.5 inches high, 16 inches wide and 7 inches deep. Early 20th century. $250.