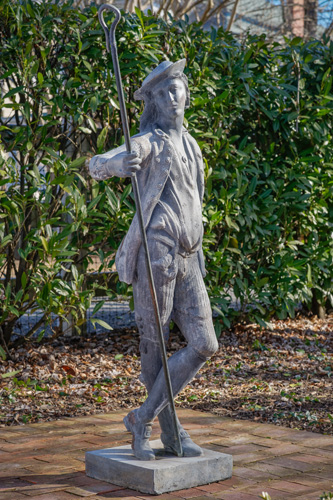 SHEPHERD STATUE, LEAD, ANTIQUE
Date: Early 20th century
Price: Please contact us for price
Description:

Lead statue of a shepherd with crook after the important 18th century English lead sculptor John Cheere (1709-1787). John Cheere ran a thriving lead sculpture yard at Hyde Park Corner in London for 50 years. Cheere had many important patrons and his prolific business in garden figures was at its height in 1740-1750. This figure with its very fine casting detail of the costume has provenance from the Penderyn estate, a 25 room mansion in Queenstown, Maryland originally built for the son the the famed Chef Boyardee. 56 1/2 inches high. Base 13 inches square. Early 20th century. This sculpture would be a beautiful focal point for any garden.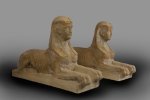 SPHINX, PAIR ANTIQUE CAST STONE
Date: late 19th or early 20th century
Price: Please contact us for price
Description:

Unusual pair of cast stone sphinxes painted beige, on plinths, with Egyptian-style head-dresses, late 19th or early 20th century. Sphinxes were mythological creatures with the body of a lion and head of a human who were important in Egyptian and Greek legend. Those with the Egyptian-style head-dresses were popular in the the first half of the 18th century. Then after Napoleon's Egyptian campaign of 1799 they were again popular into the 19th century. In ancient Egypt sphinxes were mythological creatures symbolizing power and vigilance. 19 inches high, 28 inches deep, and 9 1/2 inches wide. This is a size that can be displayed in an interior setting or outdoor placement. Pair $1750.