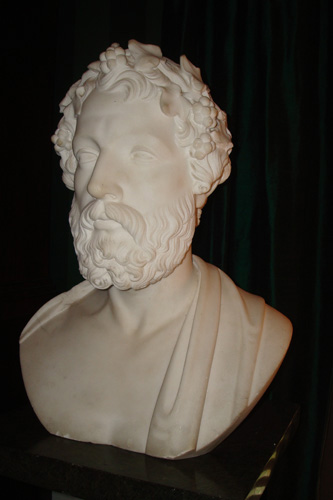 MARBLE BUST OF ANACREON LYRIC GREEK POET, 19TH C.
Date: 19th century
Price: Please contact us for price
Description:

Carved white marble portrait bust of Anacreon (570 BC.-488 BC.) an early Greek lyric poet, notable for his drinking songs and hymns. 19th century. The music of our national anthem, the 'Star Spangled Banner' written by Francis Scott Key, was taken from one of Anacreon's songs 'To Anacreon in Heaven'. In the 19th century a gentlemen's social and drinking club was formed in Baltimore and popularized this 18th century English drinking song. Anacreon is depicted here with tousled curls entwined with leaves and berries and with a mustache and beard of individual curling locks, denoting his wisdom and age. 18 inches high, 15 inches wide, and 11 inches deep.