Window Jewellery
As curtains became more elaborate, the hardware that held them in place took on many decorative forms

By the late 19th century, glass curtain pins had diversified into many forms, including florals, such as this set of French pressed opaque aqua glass. Today, pins like these are collected for their beauty as well as their function.

by Susan Stiles Dowell
Photos by Howard L. Puckett

If the decorative pins and bands that were used to hold back curtains in the 19th century look more like jewelry than practical hardware, attribute the glamour to a bit of celebrating. By the end of the 18th century, mechanized textile production in England was making volumes of cloth affordable. Swathing windows not only helped cut down on window drafts in neoclassical America but also made a fashion statement. The attendant hardware, released from basic, economical 18th-century function, took off on its own opulent trajectory.
Today, many of those window treatments would be considered over-the-top, but tiebacks are another story. Displayed on a side table as objets d'art or used to cinch back modest floor-length panels of silk, cotton, or linen, antique pins and bands add period flavor and decorative dimension to a room.
Maryland antiques dealer Aileen Minor specializes in original neoclassical curtain hardware. In 25 years of looking, she has located plenty of ornate designs made from either embossed or cast brass, as well as ornamental glass. She sells them to historic houses and house museums and never tires of all the variations that dazzle the eye. "Think of curtain pins, bands, and tieback hardware as punctuation marks to window treatments," she says. "They kept curtains back during the daytime but drew attention to the period's highly elaborate cascades of fabrics. Even with simple curtains, they add just the right touch of elegance."
Tieback hardware originated when fabric was precious and limited to draping only the window glass to curtail drafts. A cord drew a modest length of fabric up and down the window's height. Cleated to a pair of small, 1-inch round pins driven into the wooden window molding, the cord held the shade open during the day to create "a swag and tail or a festoon," says Gail Winkler, a design historian in Pennsylvania. "The pins, positioned to one side of the window, are probably the precursor to 19th-century tieback hardware."
Ackermann's Regency Furniture & Interiors (1984) refers to the early 19th-century practice of using cords and tassels to loop back long curtains at about chair rail level. However, Thomas Sheraton notes in his circa-1805 Cabinet-Maker, Upholsterer and General Artists' Encyclopaedia that the method was out-of-date. Instead, the long lengths of cloth might have rested directly on metal pins, which were often called cloak pins.
"Cloak pins were screwed or driven into walls in the 18th century to hang clothing and hats on," says Don Fennimore, curator of metals at Winterthur. "But in the 19th century, the pin is differentiated according to what was hanging on it. Closets came in at this time, and the pin, no longer needed for holding coats, graduated to facilitating and complementing elaborate curtain styles."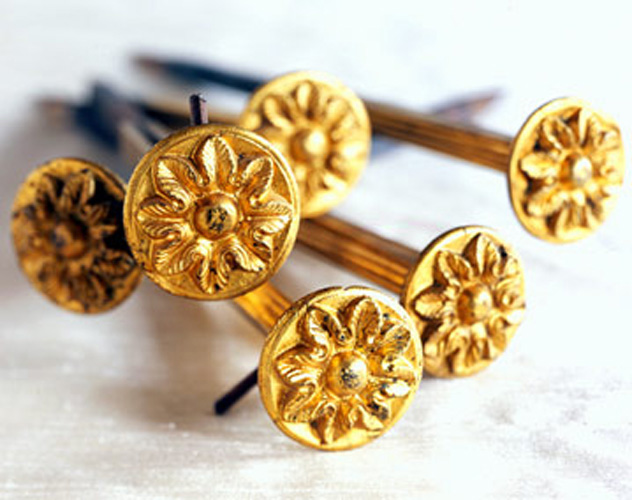 These unusually long, 14-inch wrought iron spikes sheathed in brass with medallion ends would have protruded 8 to 10 inches for holding voluminous curtains.
"The idea of pulling back draperies in an artistic way was facilitated by the pin," says William Seale, an architectural historian in Virginia. "These curtains were not tailored to stay in one place like today's are. The panels had to be carefully 'looped' over a pin to hold them back during the day, but this elaborate method is now a lost art." He speculates that heavier draperies required pins with greater diameters and longer iron shanks.
Fennimore notes that round, hollow curtain pins of embossed brass with tinted lacquers simulating fire gilt flourished in the first third of the 19th century. Ornate bands of brass also held back curtains. In 1830, Godey's Lady's Book advised attaching bands to the wooden window trim either vertically or horizontally, not diagonally, as is done today.
By the mid-19th century, the curtain pin had diversified. Band designs became fancier, morphing into hands, for example, or a flower, with the stem holding the curtain. Translated into different kinds of glass, the earlier standard of a round floral motif in brass acquired sublime beauty.
"There was an eruption of designs, particularly in all colors and fashions of pressed glass around 1850 because the function of curtains changed," explains Winkler. "Central heating and gas lighting were invented, and extreme window swathing with great weights and lengths of fabrics was no longer necessary. Curtains could be cut just to the floor and moved less actively day and night. The delicate glass designs were securing cords instead of the extreme weight and length of fabric."
Winkler speculates that the term tieback entered the design lexicon around this time, after central heat and gas lighting changed the function of curtains. "As curtains began to be strictly decorative in American homes, so did their tiebacks," she says.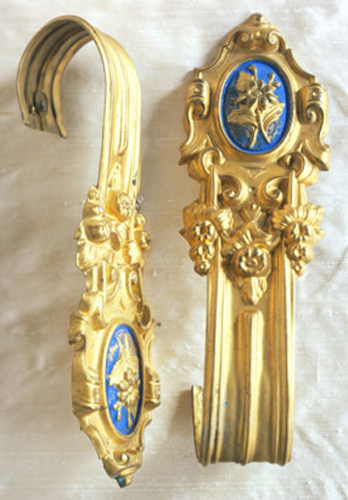 Nineteenth-century trade secrets for creating faux gilt, such as on these circa 1860-1870 brass bands, have been largely lost. Bands were correctly attached vertically or horizontally, rather than diagonally.