About Us
We are located in an 1806 Federal brick town house listed on the National Register of Historic Places in Centreville on Maryland's Eastern Shore, about one hour from Washington, D.C., Baltimore and Philadelphia. Established in 1975, we work closely with private clients, landscape architects and designers throughout the United States.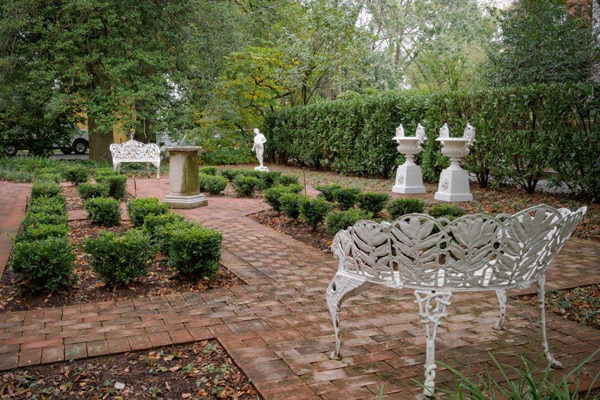 Displayed in boxwood parterres and other garden room settings under old linden and holly trees are garden antiques for sale from our collections: statues, benches, settees, urns, planters, fountains, sundials, armillary spheres, tables and chairs, all extraordinary pieces carefully researched and chosen for beauty, authenticity and quality.
The display gardens are open by appointment year round.
About Aileen Minor
Aileen Minor acquired her passion for antiques and garden ornaments as a young woman teaching in France where she lived overlooking an old chateau garden in Orleans. After returning to the United States, she studied with Lorraine Pearce, the first White House curator, and pursued advanced study with the Attingham Trust Summer School in England. She restored three historic Maryland houses and surrounding gardens to National Trust preservation guidelines, work that honed her appreciation for in-depth research. Her garden antiques are installed in The President's Room of the U.S. Capitol, The Smithsonian, The Boston Museum of Fine Arts and in private collections in the U.S., England, Germany and France.
"My fascination with the history of a piece always leads me to its backstory. Garden ornaments changed from wrought iron, lead and stone in the 18th century to cast iron, zinc and cast stone after the Industrial Revolution. My customers receive all my research findings when they purchase an object from me." ~Aileen Minor