Gardens with Earthly Delights
Demand for antique garden with ornaments is on the rise among American collectors.
BOBBIE LEIGH. Art & Antiques Summer 2007 pg. 39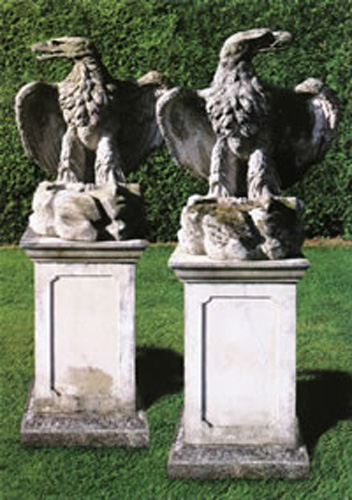 I have created my own folly," says Kansas City, Missouri-based John Rufenacht. He is referring to his garden, which showcases his connection of 18th and 19th century European antiques, such as a pair of limestone lions from England, four-foot-high cast-iron Italian urns perched on stone pedestals, a German wrought-iron gate and iron French estate markers. But until he builds a chapel out of stones, archways and roofing that he imported from England, the piece de resistance of his collection is a miniature (10' x 12') brick greenhouse, purchased in England.
Collectors like Rufenacht are contributing to a mini-boom in the market for antique garden ornaments. Lynette Proler of Los Angeles-based Proler Garden Antiques, who has seen interest in the category skyrocket over the last 15 years, attributes the demand to Americans following the European tradition of furnishing gardens with antique rarities. "After spending three or four years finishing the interior of their homes, collectors then focus on their gardens," she says.
The most expensive ornaments are made from a material known as Coade stone, says Barbara Israel of Barbara Israel Garden Antiques in Katonah, New York, who wrote the book Antique Garden Ornament, Two centuries of American Taste. In 1769, Eleanor Coade created a formula for a clay-based, high-grade durable stone, manufactured in her factory in Lambeth, England. According to Israel, because Coade stone was extremely hardy and able to withstand harsh English weather it was the ideal material for architectural details. The buff-colored material was also cheaper than quarry stone and, as it was made from molds, it could be used to create finely detailed classical statuary. At a Sotheby's auction in Sussex, England, in 2005, a 14 - inch - high 1814 Coade stone corbel (a type of architectural bracket usually attached to a wall) from a refurbished medieval abbey sold for about $4,320, twice the pre-sale estimate. At last year's New York Botanical Garden Antique Garden Furniture Show, Israel featured a pair of 8-inch-tall canines, probably greyhounds, 1813-33, for about $49,000. "A full-sized female Coade stone classical statue, if you could find one, might run between $50,000 to $75, 000," she says.
Fine antique statuary, whether marble, stone, lead, or bronze, is also destined for high prices. "Five years ago, it would have been possible to buy a classical female statue on a pedestal, perhaps 18 inches tall, for between $10,000 and $15,000,'' says Israel. Today, she says, prices have increased by about 60 percent. Proler currently has an important pair of circa-1860 composition-stone eagles ($48,000) by Felix Austin and John Seeley, sculptors who created their own molds. Their urns and statuary are almost as rare as Coade stone figures. "What is significant about these two sculptors is that their statuary designs are not only aesthetically beautiful but that they derived inspiration from classical Greco-Roman works of art," says Proler.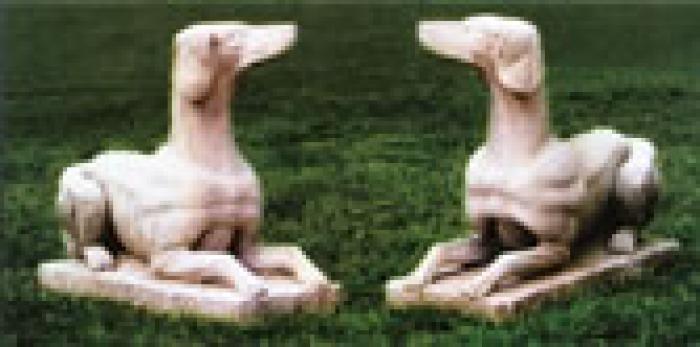 Centreville, Maryland, dealer Aileen Minor attributes this fascination with antique garden ornaments to collectors' need to create a place of harmony in their lives. Minor, a historian of garden ornaments who specializes in antique American examples, has an impressive inventory of 19th-century iron and stone benches, chairs, gates and fences created for American cemeteries and gardens. Cast iron is made in a mold and is much harder than hand-crafted wrought iron. It is suitable for birdbaths, benches and fountains, which are made in sections bolted together. Each foundry had its own styles and patterns, and in the casting process many would label their pieces with the company name and, on rare occasion, the date. Minor has a cast-iron garden urn in Gothic design from a foundry located at 109 Beekman Street, New York City, with the following markings: "Abendroth Brothers. New York desi. patented, June 17, 1873" ($1,500). "Any 19th-century foundry labeled and dated cast-iron piece is rare. I would guess it could possibly double the value as there would be no question as to where and when it was made," says Minor. At Trellis & Trugs in Chicago, a late 19th century stone well with its original cast-iron fittings from the Champagne region of France is priced at about $11,000.
Also popular are well heads, the carved square or round blocks of stone or marble placed over wells. Proler, who keeps a waiting list for such rarities, currently has a hand-carved Iberian stone well head from northeastern Italy priced at $68,000. Architectural details are increasingly prized, as "people are beginning to think about vertical gardens, growing their plants on structures, including arches, arbors, columns and trellis work," says Kathryn Meehan, a retired assistant chief of horticulture at the Smithsonian Institution in Washington, D.C., who is working on a history of American antiques for the garden. Lampposts, gazebos, bridges, entrances and balustrades individualize spaces within a larger landscape, she says.
Collectors are also seeking exterior grills from 19th-century buildings as garden art, as well as high-quality armillaries. (An armillary sphere, an ancient astronomical instrument, consists of intertwining metal rings representing the relative positions of the celestial equator and other celestial circles.) According to Proler, antique European armillaries tend to run around $16,000, though she recently sold an 8 l/2-foot 1840 Georgian-style pedestal topped with a bronze armillary for about $35,000.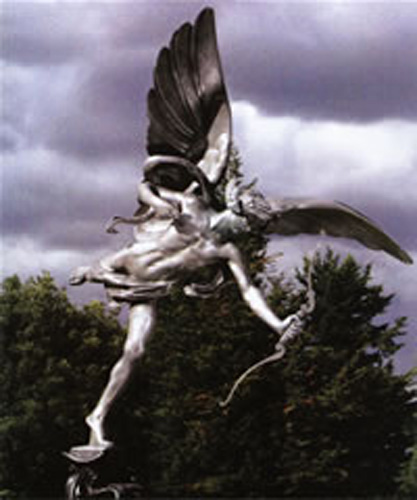 Among the best places to discover European garden antiques are Sotheby's twice- yearly Garden, Architectural and Fossil Decoration sales in Sussex. According to Rupert Van de Werff, head of Sotheby's garden statuary department, prices for 18th century English lead sculpture have quadrupled over the last five years. In contrast, cast-iron urns and seats haven't moved that much in price. At last year's September sale, prices for stone urns hovered around an anticipated $25,000, while an aluminum sculpture of the Greek god Eros by Alfred Gilbert (1854-1934) fetched $102,605 against an estimate of $95,000 to $152,000. At least half the bidders at these auctions are private American collectors, Van de Werff reports.
Dealers who sell online have transformed this market, specialists say, as collectors increasingly turn to the Internet for purchases, a practice that can be fraught with risk: Meticulously reproduced "antiques" from China and Eastern Europe are flooding the market, and computer images don't always reveal an object's condition. As with other collecting arenas, working with a connoisseur when buying remotely is essential. After all, your goal is to create a folly for your garden, not to commit one in your purchase.
New York correspondent Bobbie Leigh is a member of the International Association of Art Critics-USA section.