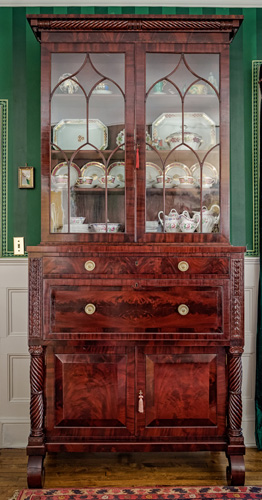 SECRETARY BOOKCASE, ANTIQUE PHILADELPHIA, C. 1830, ATTRIBUTED TO ANTHONY QUERVELLE
Date: 1825-1835
Price: Please contact us for price
Description:

Antique museum quality classical carved mahogany secretary bookcase, Philadelphia, 1825-1835, attributed to Anthony G. Quervelle. Circa 1830. H.101 in. W. 45 in. D. 23.5 in. This beautiful Philadelphia secretary has a cornice with spiral carving over glazed doors with gothic arched mullions, below there are two writing surfaces: a standup pull out writing drawer with a raised writing board, and below a pull out fitted writing compartment with an ebonized maple interior with ten drawers and the original gilt brass pulls. This fitted interior is virtually identical to the interior of a labeled Quervelle secretary bookcase owned by the Munson-Williams-Proctor Institute in Utica, N. Y. and illustrated in their book "Masterpieces of American Furniture from the Munson-Williams -Proctor Institute" by Anna Tobin D'Ambrosio. The spiral carved columns on this piece are also shown in the above book in an illustration of a manuscript pattern book with script notations in Quervelle's handwriting. See: pages 60-61. The double paneled doors below open to an interior with three pull out full size trays. The secretary has all original locks and keys. Provenance available to purchaser. Please call for pricing.