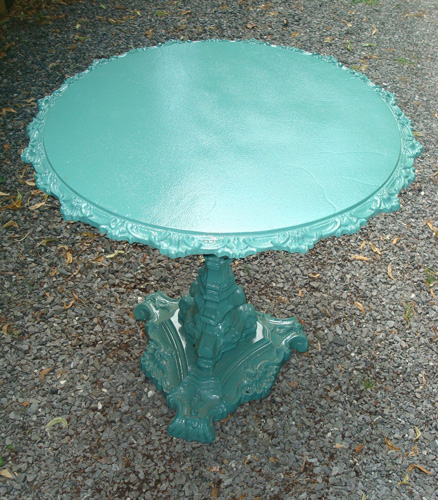 TABLE, ANTIQUE ROUND CAST IRON TILT TOP, 19TH C.
Date: Late 19th century
Price: Please contact us for price
Description:

Round cast iron tilt top table, 19th century, with decorative border around the top, over ornate baluster pedestal base ending in tripartite feet. The hinged top tilts and locks upright for display or storage. Signed in two places in the casting: 'Rudy Groeger', probably name of foundry maker. Has been professionally cleaned and repainted. Late 19th century. This form was called a center or conservatory table in the 19th century and was placed in a garden or conservatory with chairs for serving light fare. This table form was illustrated in many 19th century iron foundry trade catalogs. American. Unusual form to find in antique garden pieces today. 29 1/2 inches high, 28 inches wide. 48 inches high when tilted.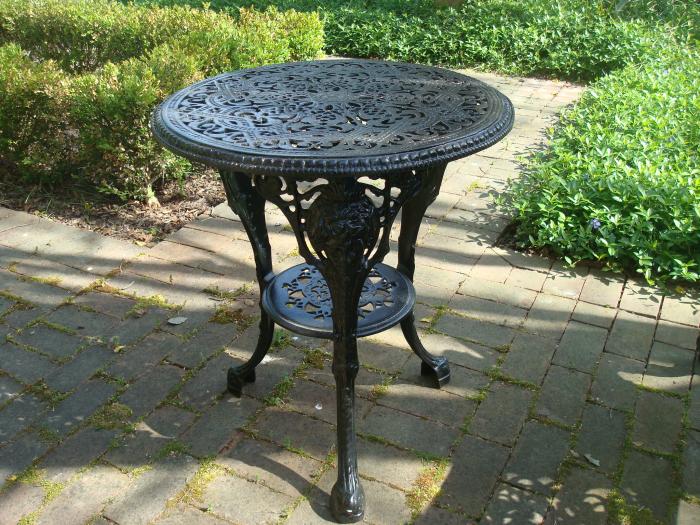 TABLE, ROUND CAST IRON, ANTIQUE
Date: early 20th century
Price: Please contact us for price
Description:

Cast iron round antique center table with openwork top, lower shelf, and on tripod legs. Profiles of women at tops of legs. Perfect to pair with a bench or seating in the garden. Professionally cleaned and painted gloss black. 27"H. 23 1/2"W.