Chipped Cherubs, Mossy Urns Collectors in a Garden of Delights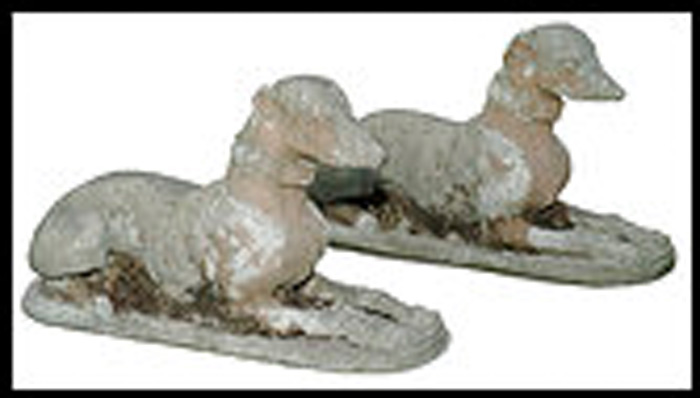 Annie Groer. The Washington Post . Washington, D.C.: Mar 10, 2005. pg. H.01
Rhona Wolfe Friedman was at a Northwest Washington estate sale last year when she spied a suite of garden furniture that made her heart race: an ornate Victorian settee, a diminutive round table, and four chairs each embellished with a scythe-wielding lad.
When the seller would not bargain, she bit the bullet and paid full price -- about $4,000 -- for the "short and small and very sweet" black-painted cast-iron collection. "It looks like a child's set, but it's not. It's a set you won't see in everyone's yard," says Friedman.
Today it shares a patio with two dozen other garden antiques she and her husband, Donald, have bought over the years, from a pair of 18th-century, lion-headed stone troughs said to have come from an English castle to a 20th-century, cast-concrete architectural element from an art deco edifice in Brooklyn. Some pieces cost under $100, others well into four figures.
There are many collectors like the Friedmans, who devote as much attention to their exterior decor as their interiors. An al fresco design statement can be as simple as a bronze sundial or as mannered as a group of towering marble columns, as functional as a curved wooden bench circling a tree, or as whimsical as little stone squirrels half-hidden among flowers.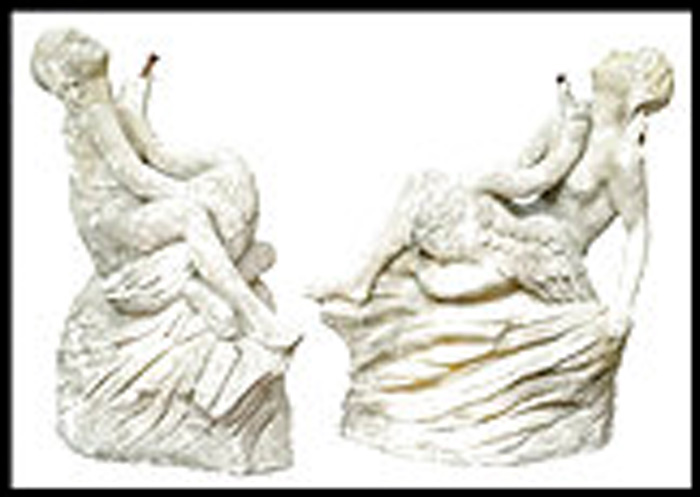 "People like fountains, they love birdbaths, figural things, statuary, urns or some other sort of pots," says Aileen Minor, who specializes in garden antiques at the shop bearing her name in Centreville. "Their lives are so hectic, they want a place to relax and unwind."
Tonight through Sunday, Minor will showcase 20 unusual, old pieces in an indoor garden at the "Antiques in Alexandria" show at Episcopal High School. Additional examples of garden ornament -- dealers and collectors often use the singular form of the noun -- will fill her booth.
Minor's offerings include a pair of 1920s cast-stone fountains depicting the Greek myth of Leda and the swan, and two pink-painted cast-iron chairs bearing a "Peter Timmes Son, Brooklyn, N.Y." foundry mark and an 1895 patent date, which she especially favors because old metal pieces were often unmarked.
Although gardens have been adorned with decorative and utilitarian objects at least since ancient Roman days, the golden age of al fresco decor was 16th-century Renaissance Italy, says Barbara Israel, author of "Antique Garden Ornament: Two Centuries of American Taste" (Harry N. Abrams Inc., $49.50). "Wealthy landowners installed enormous gardens and decorated them with multitudes of statues, fountains."
"In America, the golden age was from about 1895 to 1940, when families such as Vanderbilt, du Pont and Gould bought huge tracts of land, hired newly minted landscape architects, and created vast landscapes and gardens that were populated with Italianate ornaments: statues, wellheads, stone benches, fountains and urns," says Israel, a New York dealer who will not be at the Alexandria show. Dumbarton Oaks in Georgetown reflects the formal, geometric Italian influence, she says of a design requiring "formal ornaments in marble, carved stone, bronze and terra cotta."
Such embellishments did not remain the purview of titled gentry. The Industrial Revolution, which began in England in the 18th century and soon crossed the Atlantic, created a merchant or "middle" class that came to cities from the agrarian countryside.
"There was a lot of upward mobility and a lot of showing off," says garden historian Kathryn Meehan, who retired as the Smithsonian's assistant chief of horticulture and now lives in Chestertown. "They had the public side, their front yards and gardens where they put their best things. It was like putting things in the parlor. Eventually they got to the rear garden."
Metal objects came from iron foundries that may first have manufactured large-scale building facades before turning out such smaller works as fountains, gateposts, fencing, statuary and sundials, says Minor. The designs were often copied from classical works.
Today, those designs are being reproduced in Asia and Mexico, and in some cases, passed off as antiques, she notes.
Although marble was frequently used during the Renaissance, less expensive cast stone became popular in the late 19th and early 20th centuries in this country. "It's not like the concrete of today," she says. "They would mix different color aggregate stone in, sometimes bits of coal, which made it look black, or glass."
These humble materials were used to grace even opulent estates, including the East Hampton home of the late Robert Gardiner, whose ancestors settled in New York in 1639.
Last week, Christie's in Manhattan auctioned six pairs of life- size, crushed-limestone statues of allegorical figures and a trio of reveling, winged infants from the Gardiner grounds. Although pre- sale estimates were $3,000 to $5,000 per lot, fierce bidding drove prices up to $6,600 to $18,000, including the buyer's premium.
But buyer beware, warns New York interior designer Bunny Williams, who co-owns Treillage, a Manhattan garden decor shop. New cast-stone reproductions of French antiques are entering the market and may be sold by the unscrupulous as the real thing.
She urges beginning collectors to start with antique flowerpots. "Late Victorian stone urns are a lot less expensive than 16th- century ones, and you can always find an interesting single chair rather [than] waiting to find a set of six or eight." Small square, late-19th-century French terra-cotta vessels at Treillage are $30 each.
Those wanting to shop, or at least browse locally, should see the Alexandria show. The Friedmans will be there, although garden seating is not on Rhona's list. "To be frank, the antiques are not so comfortable. They are wonderful to look at. But when we serve guests outside, we use a modern table and chairs."